The accommodation is extremely spacious and there is free flow access throughout the rooms and from the large conservatory into the superb garden. The conservatory brings in so much light that it feels as if the children are outdoors even when inside, stressing our belief in the importance of an indoors/outdoors nature, and it receives a huge amount of sunlight and the children are fascinated when it rains or snows and they see it on the roof and it gives them a seamless experience of being indoors but outdoors simultaneously.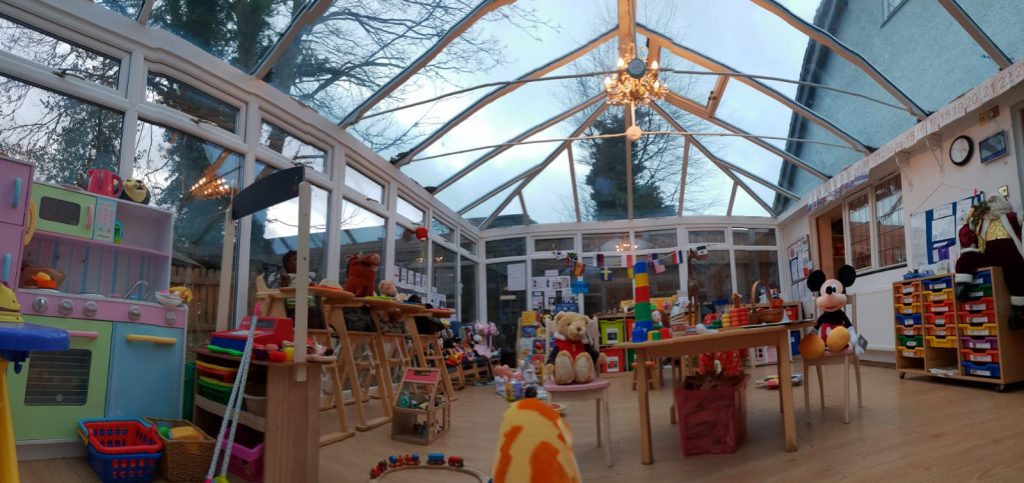 The garden features our African garden which is surrounded by logs the children sit on for story time. The African garden exhibits snakes wound round trees, parrots, a giant giraffe, wooden African masks and other features to delight the children – also with the emphasis on a mini forest area, the setting has a small "wooded area", so the children can follow the woodland nature trail, where they see masks of badgers, owls and foxes, etc., and where the children can engage in a favourite activity of theirs: bug hunting with magnifying glasses and binoculars. The children also have an area of their own in the garden, where they plant vegetables, herbs, pumpkins, etc., and when the season dictates, harvest them for their meals.
Since 2010 the setting has gained the addition of a vast covered area, built from wood and perspex, known as the "Gazebo", which is a permanent feature and emphasises our belief in the importance of free flow outdoors. The area has twinkling lights round the roof of the gazebo, which in Winter months provide a very exciting area for the children as darkness descends.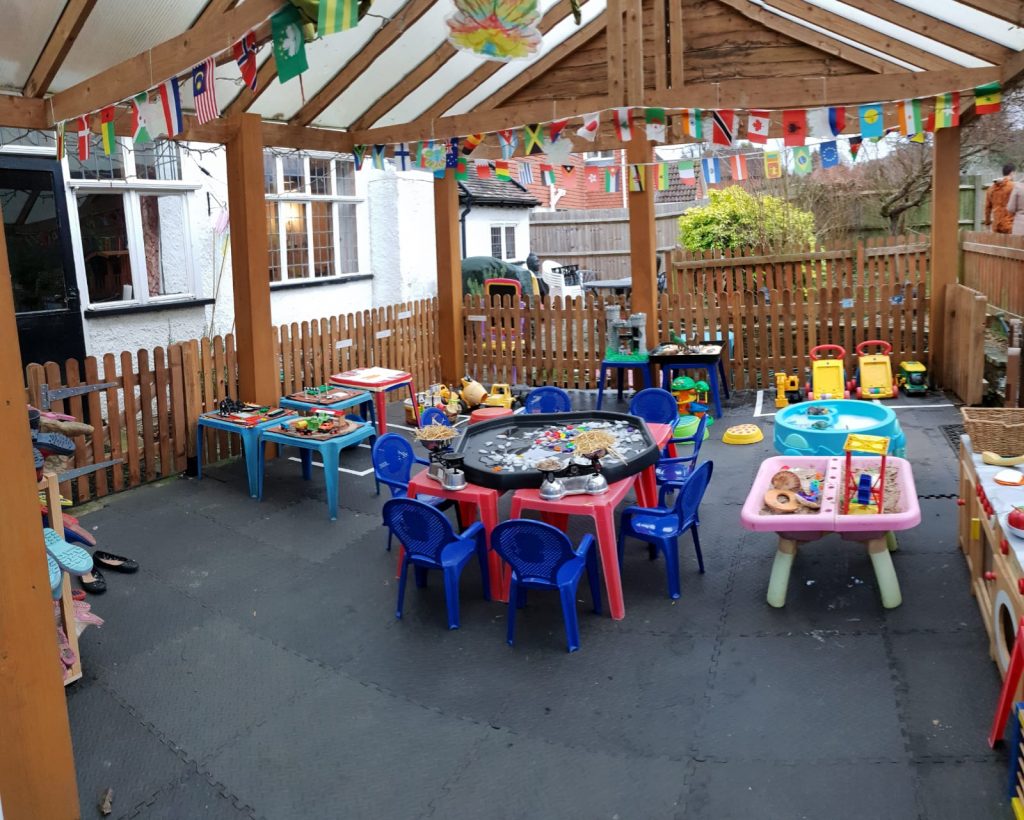 The garden provides access to activities which promote all areas of learning and development, e.g., 9 Little Tikes cars, trikes and scooters, ball games, etc., for physical development; sand and water trays for expressive arts and design and physical development; large puzzles, hopscotch and large numbers for maths; alphabet activities in the garden for communication language and literacy; a den which the children helped make, helping personal social and emotional development as they can chat to each other, take turns with the toy food in the den, etc.